One of the most impactful ways to change up a room is to alter the walls (we shared some DIY painting techniques with you in the past). With white walls your goal is simply to direct the eye to other elements in the room, like a nice rug or lamp or picture. However, with bolder colors, or in this instance, bolder wall treatments, the walls become part of the focus themselves. Here are some wall treatments that shouldn't be too hard for a do-it-yourselfer but can make a strong impact.
Wood Walls That Wow
Wood Block Wall (found at Lowes.com)
This wall treatment is not terribly difficult but it is time consuming. Basically, what you will be doing is cutting wood posts (4×4) in varying thicknesses, sanding off any rough edges, gluing them to a plywood board with liquid nails in a pattern that pleases you, and then nailing the plywood board to the wall.
For a Salvaged Wood Wall (found at Design Sponge)
This project can be really inexpensive since you are going to be using wood that other people toss out. However it can be very time consuming collecting materials that are both damaged enough to be thrown away but not so damaged that they can't be used. The salvaged wood pieces are then arranged, from the ground up, in a pattern of your choice.
Walls That "Pop"
Vinyl Record Wall Art (found at Love Grows Wild)
Old records can sometimes be found at garage sales and thrifit stores for literally a "dime a dozen". Some people are doing really fun projects with them and an easy project is using them as wall art. A bunch of vinyl records, a handful of small nails and a hammer is really all that you need for this project.
DIY Leather Wall Tiles (found at Decorative Ceiling Tiles):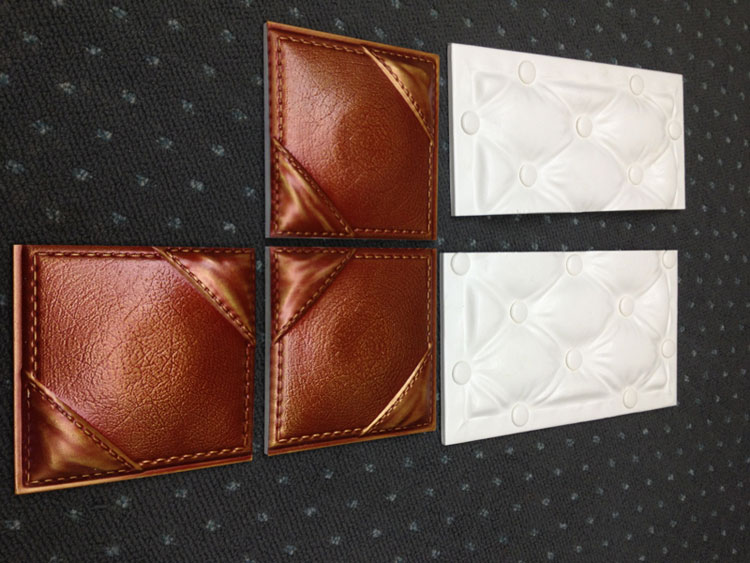 If you've done any simple upholstering then you know the process involved in making these tiles. You need plywood squares and some cotton batting. Then you take the leather or faux leather and wrap it over the square and staple it tight with a staple gun. Repeat this process until you've made the amount you need and then arange them onto your wall. This type of wall can be great for adding sound absorbing qualities to a loud home.
Decoupage Wall Treatment (found at examiner.com)
Decoupage is very versatile and can be used in many ways to make your walls pop. You can make bold wall treatments with vintage maps, old sheet music, old pictures, etc.
Textured Walls That Just Feel Right
Brown Craft Paper Walls (found at diyinspiration.com)
Also through decoupage you can focus more on texture rather than the design. You would be able to use crumpled brown craft paper or tissue paper to get a rougher texture. Then once the texture is created you are free to paint over it with the color of your choice.
Clay Wall Treatment (found at greenspiration home)
Clay has been used on walls since when people were living in huts. It has made a comeback in part because it is an all natural wall treatment that doesn't have any off gassing or chemicals. But another reason it is becoming popular is that it is very beautiful. It creates a very pleasing texture on the walls.
Walls That Help Organize and Look Awesome
Chalk Board Wall (found at Benjamin Moore)
If you are a teacher then maybe you don't want to be reminded of the classroom and you can skip this one. But for everyone else, the chalkboard wall can be an amazing decorative wall treatment. It is easily changed up by drawing new designs in chalk on the wall. It is great for kids or functional in the house for to do lists and phone numbers.
Peg Board Wall (found at the Chic Site)
Sheets of peg board are usually available at hardware stores and can be cut to your desired size. Many people have started making big peg board walls as a means of organizing spaces but it can also serve as a beautiful and versatile display wall.
Cork Wall Covering (found at mantoncork.com)
Cork is a natural and renewable product derived from tree bark and as such it produces gorgeous and unique sheets that can be used for flooring or wall treatments.
There you go! 10 DIY wall treatments that will get your home looking fabulous. If you end up doing any of these wall treatments we'd love to see the finished project. Go ahead and take a photo and tag it #epochDIY.