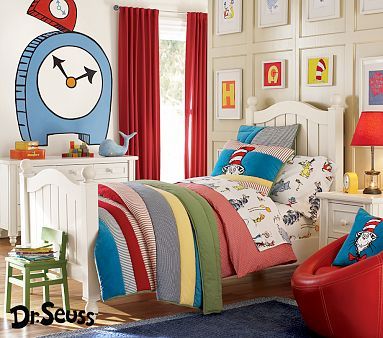 Of course the iconic children's author we all know and love, Dr. Seuss, is celebrated every year on March 2nd for his birthday. Kids across the country participate in "Read Across America" because he was an author that inspired many of them to begin reading. In honor of his birthday, we decided to create an adorable Seuss bedroom that any kid would be ecstatic about! With the fun colors and whimsical theme, this is a great way to decorate your kids bedroom. They'll love the creativity you put into it, and enjoy having such a unique room! To learn how to transform your kids room into something straight from Whoville, keep reading!
Every single Seuss book was visually appealing because the color was in the right place at all times! To be sure your colors give the same effect, keep the walls simple by painting them a neutral color like white, beige, or light gray. Not only will this set a great background for your brightly colored accents, but it will allow a change in theme as your kids get older and want to switch things up!
To continue with the simple and classy side of this theme, we highly recommend white furniture to go along with the white walls! This sounds a little boring, especially for the creative look we're going for, but no worries– color will be added later with our decorations! Check out the Dakota collection for a great selection of white furniture that'll work with this theme perfectly.
Yes, the walls and furniture are white, but not to worry- we're getting to the fun stuff! Of course it wouldn't be Dr. Seuss without a fun saying and iconic artwork on the walls. Look for Dr. Seuss wall decals to fit your kids personalities, with they're favorite quotes or characters! Not only is this a great way to keep your walls from getting bland, but they're removable and interchangeable, so this is an easy way to swap out color schemes and looks!
To add to the Seuss wall decor, fill an array of matted white frames with Seuss styled letters and photos that match your color scheme. This will give a fun mismatched effect at the same time as brightening up the look of a blank white wall! Check out the picture in the beginning of this post for an example of this letter and symbol framing to see the unique effect it gives the rest of the room.
A bright fun bedding set that has the iconic Dr. Seuss stripes and Cat in the Hat character on it is a great way to tie together your theme. The concept will not be misunderstood with this bedding set! Finding fun knick knacks, clocks, and lamps that go along with this theme are other ways that will bring together this whole look. Remember to put all your books on display in the bedroom to add to the theme, or even hang them on the walls for decoration! If you try out this look, share a photo with us and let us know how you like it in the comments below!