What We Would Want Wednesday: a Tree House Full of Awesome
What would we want? Well there is this thing that has been a dream since practically forever and maybe it's silly to still want one but dreams can be silly. Dreams can be whatever we want and that is one of the things that make them beautiful. So this little design fantasy session is revolved around the tree house!
In a city near us there is a place called Tree House Point where you can stay the night or even get married at. They are at the epicenter of a tree house revolution that has been happening. These are not little tree houses meant for kid's club meetings, these are regal structures sturdily built to help bring you even that much closer to nature.
One feature we'd want in our tree house would be a hot tub. Maybe one like they have at this tree house resort in Hawaii. Soaking in your tub as you soak in some sun all while looking out over your own private tree fortress of solitude… That would be a good day any day.
Another use for the tree house? A quiet space to fully immerse yourself in creative projects. With some pegboard, a little desk and a keen eye for design, Mandy of Fabric Paper Glue was able to make a super stylish craft space – something that would go great in the tree house.
We would also undoubtedly use our tree nestled oasis as a place to catch up on some reading. This cozy nook (via buzzfeed) would be a perfect place to settle in and devour the latest Ken Follett novel, as Epoch Design's Jenny DB would highly recommend.
Yet another big reason we'd want a tree house would be to get closer to the stars. The night sky can be wondrous to behold and just sit and stare out at. We would definitely set up a telescope too so that we could explore the universe.
An essential item in any good tree house is a wool blanket to wrap one's self in. This Native American styled blanket from Etsy would be perfect.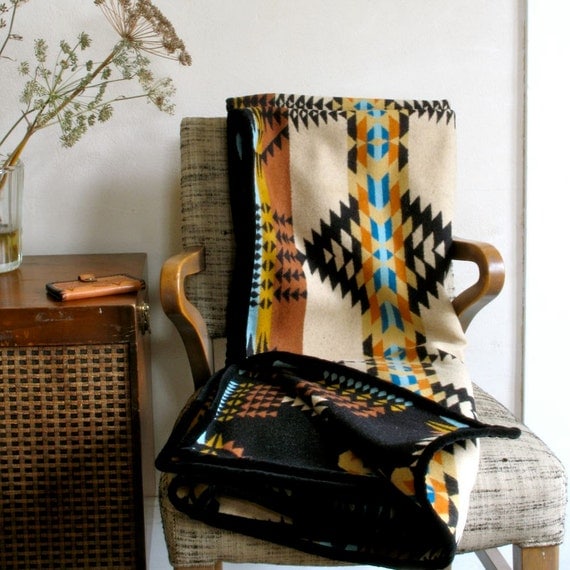 A high quality futon would be pretty perfect for the tree house too. Usable as a couch but if you want to sleep in the trees or if you want to put up a house guest there, it comfortably converts to a bed.
And finally, we're not even sure if this thing works but since we're just dreaming here… We don't really want to have all of the distractions that electricity brings in our tree house. Maybe that makes the hot tub an impossibility but we'll leave that to the engineers. But even without electricity we definitely want hot coffee so this hand crank coffee machine would be amazing.
Well, now that it's all laid out there, the desire for a tree house hasn't subsided. One can only dream huh?