#WhatWeWouldWantWednesday: a Henry Danger Superhero Room
Kid's rooms are supposed to be fun right? They are a chance to live out fantasies or express creativity and imagination or maybe just a place to PLAY! And to be completely honest, kid's bedrooms are often a place where the parents try to get the room they never got as a kid (guilty!). A show that I've been enjoying right along with my kids is Nickelodeon's new hit, Henry Danger. This show follows Henry Hart and his secret life as the superhero sidekick Kid Danger. And as with most of Nickelodeon's shows the bedroom sets are crazy fun! We made a Pinterest Board of Henry Danger ideas but here is a guide as well:
ke
source: Nickelodeon
One of the keys to this children's room design is the use of the comic book color scheme. Those bold primary colors of blue and red and with a lot of orange for pop. The primary color scheme can be instantly emphasized with a wall art decoration like this one found on Etsy.com. And it is perfectly SUPER!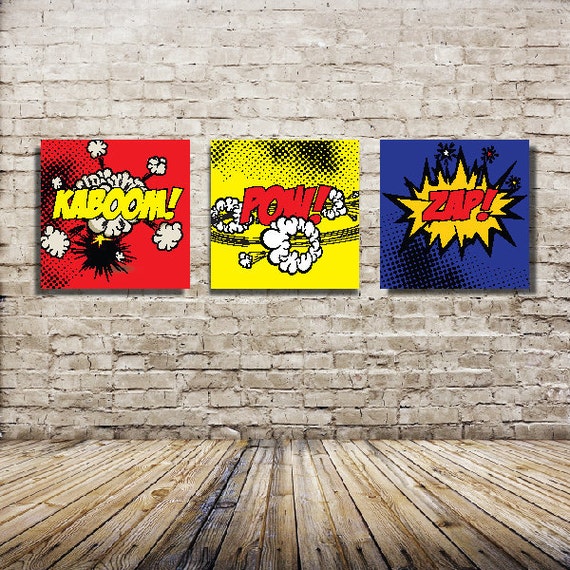 Etsy also had these gear decals for your wall. There are gears in Henry Danger's room too. These would be perfect for your kid's room and the colors work well with what we have going on already.
We'd definitely put a loft bed in our superhero room. Any good hero needs a place perched high above to watch for criminal activity and a command center underneath. The Kenai Loft Bed is pretty awesome!
Henry Danger has a red locker in his room that might hold his superhero costume or maybe just his backpack. Either way, storage is helpful and these from Bed Bath and Beyond are great for the room decor.
Below I put together some items that can be had for cheap (especially if they aren't working) but that combine to look like a pretty good command center. You can get things like an old keyboard, joystick, rotary phone, plasma ball, light up pegboard, and a sound mixing panel. Great for any kid wanting to be like Kid Danger or Captain Man!
To borrow Henry's style further, you can decorate your bed with a solar system bed spread – just like Henry Danger. We found this one on hayneedle.com
This red convertible sofa is such a perfect fit for this room! What is a convertible sofa if not a couch with a secret identity? Henry Hart when it's a bed and Kid Danger when it's a sofa!
There are a few more items pinned on our Henry Danger Pinterest board so check it out too. Go give your kid's bedroom a new secret identity! It's what we would want 🙂