This is the second installment of What We Would Want Wednesday. If you recall, last time we let our imagination run with how we would set up a lakeside cottage. This time we are being drawn to the Big Apple and all that comes with it. We'd love to just take a walk to world class museums, amazing restaurants and Broadway shows. There are always tradeoffs though right? Our lakeside cottage was great to unwind in but we wouldn't want to commute to work from there. And If you want the convenience and the bustling lifestyle of New York City then the tradeoff is a tiny rundown apartment for the cost of a mansion in Missouri.  But just because you only have 400 square feet to work with that doesn't mean it can't be elegantly (and epochly) designed.
One of the old adages about small spaces is completely true and helpful; build upwards! Try not to think of it as 400 square feet and think of it more like 3200 cubic feet! Using loft beds, wall shelves, hanging storage and more, you can really double the amount of effective space you have. There is currently a trend of people living in tiny homes and the most common reasons are lowering housing costs or concerns for the environment. These tiny homes (and RV's) are built with efficiency as a main goal and many of the features that they utilize can be implemented into your apartment or home.
With small spaces sometimes we are just trying to trick people into thinking it looks bigger. Between smoke and mirrors, most people use mirrors to achieve this trick.  What we would want is to use a bunch of different types of mirrors and arrange them like below, then it works as art for the home as well as creating light and making the room appear more spacious.
Planting wall
Bring the outside in to create a sense of greater space. A wall of plants allows city slickers to still test out their green thumb and it helps to provide some fresh air and calming natural elements. We'd love something like the divider below since it would so beautifully work to create unique spaces from the studio floor plan.
Hideaway Dining Table
One of the great things about the internet is that when you think you have a truly unique idea, a quick google search shows you that others had the idea first. Hanging dining table? Someone's done it. However, think about how much more functionality it would have if it operated on a pulley system and you could pull it up to the ceiling when not in use. And below that picture we have a fold down dining table that looks like a painting when not in use! Some people with limited space sacrifice the dining table but it is an important piece of furniture. Eating together is proven to be beneficial. Dining tables are pieces that are generally only used 3 times a day so it is a great candidate for a piece of furniture that hides away.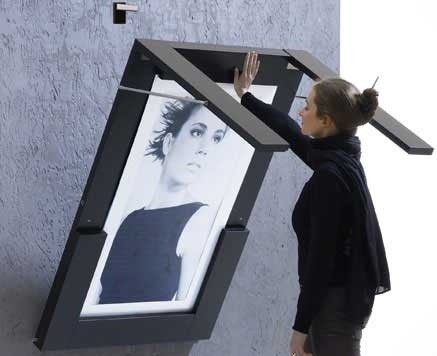 Loft beds are usually a key element to any ultra-efficient design. They allow for greater utilization of that vertical space (those cubic feet we were talking about). A pretty tiny studio could even have two loft beds, one with a big dresser and desk and one with a couch on bottom (fitting a main bed and guest bed into a small space). While lofts really are great, some people don't want to sleep up high. In that case, you could try to fashion it like the picture below with the desk on top and bed on bottom. We think a bit more work would get done from that desk perched high above everything else.