To continue with our Spring 2012 home decor trendsseries, we're going to show you how to create the gorgeous garden bedroom you've always wanted! Of course florals are always in during the springtime, but we're going to throw a twist on it this year. Instead of the classic flowers decorating your bedspread for a girly touch, we're going all out with the garden theme! If you want to create the perfect floral bedroom this spring to be on top of the trends, keep reading!
Start off with the classic pretty pastel walls, or even a low-key floral wallpaper. This will just set a nice tone for your garden bedroom, or add a soft background! The walls aren't the focus of the room, so they don't have to be big or bright, but a nice color never hurts. To go along with this softer palette, look for white wood furniture to cover the basics. Check out the Dakota collection for a gorgeous white finish that will complement any garden color scheme you come up with!
Instead of keeping it basic with the same wood white furniture, throw in a little patio decor! Adding a nice garden bench here, or a patio chair there will make the biggest impact in the look of your room. This is something that'll stand out and start a new trend among your friends! At the same time, use nice lamps, or garden decorations as an inexpensive and simple way to implement the same trend.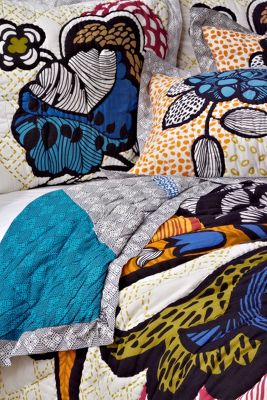 Finally, select a bedding set to add the final floral touch to your bedroom. There are many options that will completely change the look of the room, but this unique one from Anthropologie throws a new twist on flowers with color blocking. If this isn't your style, just keep looking for something that is– florals are everywhere in the spring time! Adding cute, flowery decorative pillows are another great way to bring your garden bedroom to life, and also add a more 3 dimensional aspect at the same time.
With extra decorations that you find around the gardening or decor section, your room will look fantastic and completely different from average! Let us know if you try out this Spring 2012 trend in the comments below, and keep checking back for the rest of the series!