While we think our headboards are beautiful, we know that headboards can be a wonderful place to get creative with your bedroom decor. Here are 20 great Do-It-Yourself headboards that can transform your room.
Pallet – The wooden pallet is the Swiss army knife of the DIY world. Among its many uses you can turn one into a great headboard like this:
Found at Apartment Therapy
Chalkboard – This might be my favorite, although I can see that if you were a teacher this headboard might cause nightmares. The chalkboard headboard is cute and can be updated with whatever you want to put on there:
Found at Curbly
Pegboard – The repeating pattern of holes looks stylish on it's own but add to that the fact that you can use the pegboard to add shelves and organizers and you've got a winning headboard.
Found at Bob Vila's site
A Rug – Tapestries on the wall are great for retaining heat and for noise dampening. They can also be used to create an awesome visual element as is the case with this Native American inspired room:
Found at Home Garden Vibes
Books – Perfect for any bibliophile and can work in a literary themed room as well. You can use books opened up or use books closed so that the covers are displayed prominantly. Get creative!
Outdoor Trellis – This one is really cute and can be used for an adult room or a little girl's room. It would go perfectly in an Alice In Wonderland themed room.
Wooden Oars – An accent headboard that would work especially well in a beach themed room. You could use two oars in a cross pattern or use multiple oars up and down.
Found at Hammers and High Heels
Twinkle Lights – Repurpose some Christmas tree lights in a beautiful way. This headboard also helps to add some light to your bedroom.
Found at Dig House Design
Upholstered Plywood – An easy way to make your bedroom look oh so luxurious. This project can be as simple as stretching fabric over plywood or can be as complex as a curved and padded headboard with beadwork.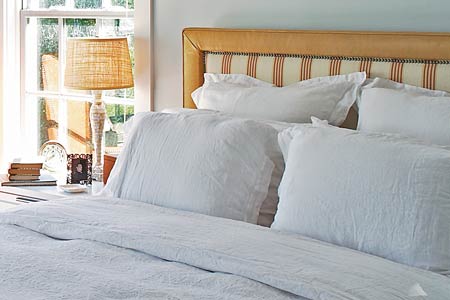 Found at This Old House
Window Panels – This headboard design would look stunning in a country chic bedroom. The vintage reclaimed window panels are a conversation starter for sure.
Found at New England Home Life
Reclaimed Wood – The style of this one depends on what wood you choose and how you arrange it. It can be more classic and rustic or it can be more colorful and modern.
Found at Design Sponge
Corkboard – This is another headboard that is very versatile and allows you to change things up regularly. Pin up some photographs or artwork or anything you want.
Found at Homedit
Beaded Curtain – This look can be perfect for a 20's flapper inspired bedroom or it would look amazing in a Bohemian Chic bedroom as well.
Found here
Mirror – All jokes aside, a mirror as a headboard does make your bedroom appear larger and brighter. It can be a very classy and stylish design element for your bedroom.
Found at Tuvalu Home
Shower Curtain – You can stretch a shower curtain over a frame or you can proudly hang it up like this one:
Found at Bedroom Decor Design Ideas
Pictures – You can do picture frames or just decoupaged pictures up on the wall. Either works well but this creatively arranged picture frame display below is very beautiful:
Found at Scissors and Thread
Copper Pipes – Arrange the pipes to be however intricate you want. The bright polished copper is a nice design element and this style of headboard would go wonderfully in a industrial style bedroom or in a steam punk room.
Found at Bob Vila
Rope Around a Frame – Rustic or country or even industrial, this look can work in many a bedroom. The example below is a modern headboard that would work many hip bedrooms:
Found at Poppytalk
Bookcases – A functional alternative to a headboard that people have been using for a long time. Make sure the book shelf is secured to the wall and make sure the items on the shelves are secured as well.
Found at Apartment Therapy
Flag – Whether you want to show support for your favorite sports team or support for you home country, a flag can serve as an interesting headboard.
Found at Swoon Interiors
So, there you go, a headboard can be many things. It doesn't really matter what you use or how you use it but it certainly can make a big difference in a room.